© 2012 Cherokee Rose Productions
Kaitlyn Costello Fain graduated with her Masters of Music from the Manhattan School of Music in Spring, 2012. She is singing here at The Atlanta Opera Chorus Holiday Concert at All Saints' Episcopal Church in Atlanta on December 13, 2010. This kind of concert is challenging to record due to severe restrictions on camera and microphone location in a church setting and no control over lighting.
This is (by far) my most watched video.
Two other performances from the same concert can be seen by
following the links below:
"Come to the Manger" - Tim Miller, tenor (Highly recommended)
"Jingle Bells" - a fun version performed by the ensemble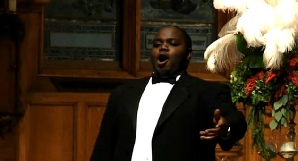 Tim Miller singing "Come to the Manger"